DATES: Thursday 13th and Friday 14th October 2022
TIMES: 3pm - 10pm (exact start time TBC)
LOCATION: Royal Armouries Museum, Leeds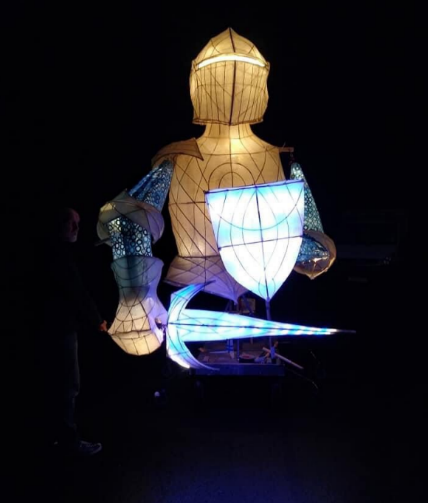 Be a part of our 'pawn army' as we create a Chess inspired puppet display for Leeds Light Night 2022.
You will be led by an experienced performer and will be fully trained how the puppets work and what is required by the director during the day on Thursday 13th October or Friday 14th October.
There is a short amount of time for training, so don't worry, it will be simple.
Volunteers who will be holding the puppets during the performance will need to be fit and able to carry some weight, feel confident interacting with the public and have a good sense of humour. If you are unable to carry weight but still want to get involved, don't worry, you can still engage with audiences.
You must be over 16 to participate in this activity.
What's involved?
This opportunity is one-off so performance times are not flexible. If you are volunteering for Friday 14th October, you may attend Thursday 13th October training if this is more convenient. We will discuss your availability at our call. Please make sure you can commit to at least one of the dates when you replay to this challenge.
Once you've registered your interest, a member of the team will be in touch to arrange an informal phone chat or video call.

Training will take place on the day from approx. 3pm and will last around 1 - 1.5 hours. More details about this session will be available closer to the time.

You will get to be part of 4 public performances lasting between 15-20 minutes. Performance times will vary and run between 6pm and 10pm.

You will 'Recruit' members of the public to join the chess army and encourage donations.
Help with the smooth running of shows and activities

This experience will take place outdoors and at night so please dress appropriately (dark colours are preferable but not essential)

We will ask for a character reference before your challenge is accepted, it cannot be a family member.

Please ensure you a refillable water bottle and something to eat.
How long is the opportunity?
Around 6 hours per day. This includes time for training, a break and performances which can go on until around 10pm. You are welcome to sign up for both dates, if this is the case you only need to attend one training session.
Why get involved?
Be apart of one of Leed's biggest events of the year.

Meet the teams, make new friends and get to experience shows from a unique perspective

Learn new skills and knowledge that could be applied to a future career
How to get involved?
Step 1) Accept the challenge.
Step 2) We will contact you to arrange the date for an informal phone chat. We'll discuss your interests and expectations, and your availability.
Step 3) We will send you details and information about your training and performance day.
Step 4) Enjoy your experience and log your hours.
Step 5) Leave feedback with us so we can improve future volunteering opportunities.
If you haven't volunteered on site with us before we will ask you to bring along some photo ID - such as a passport, and details of an emergency contact - and the contact details of one reference
Volunteers must be 16 or older for this challenge
Ideal Skills
Customer Service
Event Management
Event Stewarding
Fundraising
Ideal Interests
Creative and Arts
Visitor Service/ Front of House
Family activities